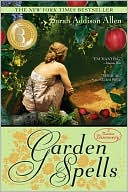 "Garden Spells,"
a novel by Sarah Addison Allen
Herbal Remedies for Life's Ailments such as...
...Lemon Verbena to calm overly talkative visitors, Lavender to lift spirits and make good decisions, Rose petals to encourage love...
"Garden Spells" is the first book by an author from North Carolina that I have read. Sarah Addison Allen has beautifully written an imaginative, simply enchanting story about two sisters living in a historic house in a small college town in North Carolina.
I have been looking to find a story based in North Carolina written by a local author. Since I've been researching landscape plants lately, the title "Garden Spells" caught my eye, and peaked my curiosity.
This is more of a '
chick
-lit' type of book, and I had not read one in a while. Some parts were predictable, but the romantic story was easy to read, and kept me engaged.
The story centered around the two Waverley sisters, Claire and Sydney. Claire remains in her ancestral home for most of her life and yet does not connect personally with locals there. Sydney leaves her hometown at the earliest opportunity, with the intention of never coming back. The two sisters, one who stayed and one who returns back home, are both trying to find out where they really belong, and with whom.
At the center of the story is the magical garden in the Waverley's backyard, with its enchanted apple tree. I enjoyed the
descriptions
of the uses for herbs and flowers from the magic garden. Allen painted vividly enticing pictures of gourmet menus that I could almost smell the marigold-petal rice, rose-hip soup, and anise hyssop honey butter on toast...
The story described the heartaches,
misunderstandings
, challenges, and ideas of what "home" really means for the Waverley family. As many of us have left our hometowns, countries, even the continents where we were born or raised, the notion of "home" takes on different meanings.
Usually
there is only
one
thought that comes to mind when you think "home." There is usually
one
place that gives you certain feelings of familiarity, triggers flashbacks, and evokes a sense of belonging. We may dread going home at times, or delay facing issues with family, or try to skirt
responsibilities
but it is impossible not to be drawn to a place called home and to the feelings of belonging. This was the case with the younger Waverley sister named Sydney.
For me, this book triggered strong feelings of wanting to reconnect with childhood friends, see the places I used to visit growing up, and taking a ride on the subway to stops I travelled everyday. I took for granted that those sights and sounds would always be there, never realizing the distance that jobs and
responsibilities
would take me.
This is a an easy to read love story, terrific beach-reading material, and a good 'chick-lit' book. Sometimes a fantasy story is just what you need!
To purchase this book from Barnes and Noble click
here.
Have you read books by this author? Click on

comments

below to tell me what you think.