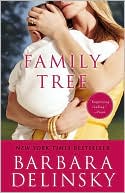 "Family Tree,"
a novel by Barbara Delins
ky
What if your biological child resembled

none

of your ancestors, or your spouse's ancestors?What if your biological child was of a different race? What conclusion would you make, or your spouse make?
In this story, an African-American baby is born to a Caucasian couple and triggers many reactions in both the couple and everyone around them. They not only struggle to come to terms with finding out how this happened, genetically and physically, but how much they trust each other.
The mother, Dana Clark, loves her newborn unconditionally and accepts whatever unknown circumstances caused her daughter to have an African-American appearance. Dana is keen to find out where in her own family tree there may be African-American blood. Her husband Hugh, whose ancestors can be traced back to the Mayflower, also loves his daughter, however he initially hesitates to distribute her photograph until he can answer questions that will obviously be raised. Was his wife unfaithful? What do they really know about their own ancestors?
Barbara Delinsky writes an easy to read story with very complex issues that challenge the reader. She develops her characters thoughtfully and the reader is comfortable exploring the controversial feelings along with them. Questions and feelings regarding race, especially when it concerns one's children or grandchildren, are not often written about. The family interactions, among grandparents, uncles, aunts, etc. are written invoking many different points of view. This is a well written story that raises many issues that parents and families of mixed-race children might have had to deal with. The tension in this story was due to the fact that no one expected any African-American ancestors in the family's ancestral tree. With knowledge of their family tree the characters might have expected this, have had nothing to explain, and just simply enjoyed the birth of their daughter.
This story peaked my curiosity since I wondered where the story would go. This is a great book for a book club where you feel comfortable enough to share feelings about race and diversity. In some areas, they consider it a 'mixed' marriage if you marry someone from a different part of the same country but speak a different dialect, even though you are the same religion and race!
Many people embrace diversity, even fight for the cause, as long as it doesn't include their own offspring. Many people are fine with diversity, as long the socio-economic levels are a match!
Some embrace their mixed heritage simply as an enriched social environment. Parents who can expose their children to different cultures, and show them that feelings of love, respect, and family unity are common to all, are the ones who rise above any controversy. That, in my opinion, is how it should be.

To purchase this book from Barnes and Noble click here.


What has been your personal experience with this topic? Share your views in comments below: