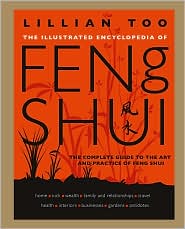 "The Illustrated Encyclopedia of Feng Shui,"
by Lillian Too
Can the placement of furniture, wind chimes, and lighting change your life?
For those who don't believe that 'good' and 'bad' energies exist, that encouraging a positive 'flow' in your environment can impact your life, the concept of Feng Shui (or Vaastu Shastra in Hindu traditions) will not mean much. If you really don't know what to believe, then following a few simple suggestions from these ancient belief systems just might improve your environment, and what's the harm in that?
A friend gave me the book "Feng Shui for Gardens," by Lillian Too to read to help me plan my landscape design. I found the ideas and suggestions for trees, flowers, shrubs for each location of our yard a helpful guide, and fun too. I picked up Too's book for Feng Shui for the home in general and really enjoyed her simple and easy to follow suggestions.
The new ideas I learned (from both of Too's books) were regarding each family member and the quadrant that represents them. The simple ideas for remedying any deficiencies were not overwhelming. You need not tear down walls, or renovate the entire house to make it Feng Shui compliant. I liked her ideas of using little glass bowls of pebbles, marble statues, metal wind chimes, and crystals to seek a balance in the house for all family members.

The suggestions for placement of furniture so that guests feel welcome, and can easily mingle, really do make sense. The elimination of clutter, sharp lines, and harmful objects is logical (think childproofing your area) so how can you argue with that? Displaying objects that are associated with happiness, good luck, and prosperity can only invoke good feelings when you look at them. If you sift through the many ideas, numerical calculations, and compass directions what you are really left with is a guide to make the home peaceful.
I found that many Feng Shui suggestions were something I would do anyway. I like to display pictures of family members, making sure we are all smiling (who wants to put up a picture where one of us is frowning?) I like having fresh and silk flowers in the house. I don't like artwork depicting war, battles, or struggles. Who doesn't like beautiful candles, clean floors, and comfortable chairs?
Feng Shui can be very complex, or very simple, depending on what you choose to believe. I really enjoyed reading Lillian Too's books, and getting a few ideas for the home and garden.
To purchase this book from Barnes and Noble click
here.
What do you think of Feng Shui? Leave a
comment
and tell me!