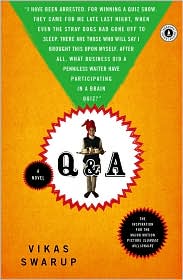 "Q and A," a novel by Vikas Swarup
My thoughts about the Slumdog Millionaire book.
With all the Oscar buzz last year about the movie "Slumdog Millionaire" was anyone curious about the book on which the movie's screenplay was based? I read Vikas Swarup's engrossing novel a few years ago, while living in the Bay Area, long before any idea of a Hollywood/Bollywood movie was taking birth. Reading the book back then, without any preconceived expectations or beliefs, I was very pleasantly surprised. I enjoyed the book thoroughly, and could not put it down. Each chapter was like a short story on its own, but I wanted to see what would eventually happen at the end. The brutality, rawness, painful and touching moments had me hooked. Each story touched on a sensational or controversial topic (police brutality, corruption, religion, war, race, prostitution, poverty, child enslavement, difference among socio-economic classes, etc.)

Time passed, more people discovered this book, the movie was released, and wow..the immense media blitz and numerous Oscars could not have been predicted. I was disappointed with the movie because of the complete story change and numerous omissions.
I started a book club with neighbors in Cary, North Carolina and picked "Q &A" as the first selection. I re-read it and noticed all the differences between the book and movie, and rediscovered why I originally enjoyed the story.
After reading this book, I couldn't help but be grateful for everything in life. The India that I remember, as a child 7 years old, was from a sheltered child's view. I remember beautiful verandas for playing, pretty custom-made frocks, wearing crisp uniforms to school, and the fun we had performing in school musicals wearing gorgeous traditional costumes. It made me sad to envision the nannies (they were called Iyas), house cleaning personnel, and various other helpers as perhaps being part of the extreme poverty that exists there. As a child, I was not completely aware of class structure, economics, and was sheltered from the situation of slum dwellers. I remember seeing beggars on the street through the window of our taxi, or from a distant when riding with my parents on an auto rickshaw, but never really thinking about it. While reading this book I had flashbacks of several childhood memories and it made me pause, reflect on my brief time lived in India. It makes me want to visit New Delhi, and see the vibrant city it has become. Sadly, even though my parents visited India many times during the past 30 years, I was unable to do so. It makes me want to see India through my 'grown-up' eyes.
This was a great read, and I recommend it highly.


To purchase this book from Barnes and Noble click
here.

What did you think of this post? Click on comments below and leave me your thoughts!