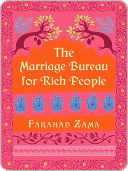 "The Marriage Bureau for Rich People,"
by Farahad Zama is an easy to read, interesting story about a retired teacher, Mr. Ali, who opens a matrimonial agency to keep himself busy. It takes place in the coastal Indian city of Visakhapatnam (the author's birth city), in the state of Andhra Pradesh. What struck me about this story was the way Zama portrayed a truly multicultural, harmonious co-existence among people of different religions. The author did not assume that the reader was familiar with local, or cultural norms and took care to explain or detail them whenever possible, such as the offering of water to guests, or the details of Muslim and Hindu wedding rituals.
It was apparent that the author drew upon his background in developing his characters as they were very believable, and the descriptions of local temples very realistic. At first, the idea of a marriage bureau might seem very 'old world', but the individual stories illustrated universal, timeless emotions. The wealthy doctor, salesman, and divorcee were each seeking to find a life partner, and sought out Mr. Ali's help. I enjoyed the different aspects and similarities of their stories. The idea of personal ads is not a new one, but some western readers may be surprised at the bluntness of matrimonial ads. In India, matchmaking for marriage is a huge business. There are very successful websites solely for this purpose. It was interesting to see Mr. Ali start his business without a list of clients, computer, or employees and turn it into a success.
Mrs. Ali is glad at first to finally have something that occupies Mr. Ali during the days, but then wishes there wasn't such a disruption to her day due to her husband's home-based operation. Mr. and Mrs. Ali's son Rehman is an unmarried engineer who leads protests against the government in support of villagers and farmers. Zama weaves in Rehman's story of social conscience and responsibility in the face of mass corporate growth in Indian cities. However, this is not a political book, and the story does not preach.
The story is also centered around Mr. Ali's assistant Aruna, an unmarried Hindu Brahmin girl from a very simple, modest upbringing, who needed to abandon her Master's degree in order to financially help her family. The story is simple, yet not overly sweet. Zama shows how communities of all faiths share the common values of love, duty, honor, and family. The most interesting, and refreshing aspect of this story is to read about regular neighbors of all different faiths, interacting and really co-existing together as a community while maintaining their culture. The story shows how caste, and religion while important when selecting suitable marriage partners, become only personal qualities when looked at in terms of a larger community. This is a good, clean, funny, and uplifting story to read. It was nice to read such a novel for a change!
To purchase this book from Barnes and Noble click
here.