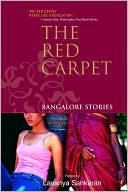 "The Red Carpet - Bangalore Stories,"
... a novel by Lavanya Sankaran
Bangalore, the "Silicon Valley" of India, was the setting for Sankaran's debut collection of stories. The author's New York investment banking background, U. S. education, and the return to her birthplace of Bangalore gives her a unique perspective to illustrate life in a "post hi-tech boom" Bangalore. Sankaran describes the contrast between the ultra-traditional, orthodox views and the younger, contemporary, upper-middle class, hi-tech crowd. She describes how the people juggle having one leg in each lifestyle, and try to discover who they really are amidst the money, freedoms, and cultural restrictions. Indeed, the city's changing environment, due to the influx of money and talent from a modern India and the technology sector, has a life of its own, and is almost another character by itself.
The eight stories were loosely related; one character linked in a minor way to the protagonist in another, and the entire book flowed well together. In "Bombay This", the story showed how a financially successful, American educated, modern man finally allowed his parents to 'arrange' introductions for prospective marriage partners. How he analyzed, considered, and reacted to the different choices before him was explored within the context of a modern Bangalore setting. I found the story very interesting and think Sankaran could expand this story easily into a full length novel.
In "The Red Carpet," Sankaran described the relationship between a private chauffeur and his employer. I could envision many of the people I knew in the Bay Area, who moved back to living in Bangalore, responding and reacting in a similar fashion as Mrs. Choudhary. The descriptions of Raju's reactions to his employer's non-traditional, modern lifestyle were very believable.
"Alphabet Soup" was a story that would resonate with many who left India several decades ago and have raised their now college-aged children in America. Graduate student Priyamvada, returned to a modern Bangalore for a visit and really discovered herself. The story showed how her young, unmarried cousin in India, despite being raised in a very traditional Brahmin-caste home, casually broke even the strictest traditions. I think this story illustrated beautifully the way immigrant households absorb the customs of their adopted homeland, retain the traditions of their own culture, and try to balance the two worlds. This story reminded me of many families who are very succussful at retaining their traditions, others who denounce the traditions totally, and the majority who find a comfortable balance. It showed me how lucky Priyamavada was to have been exposed to both cultures, and to have a choice of how to live her life freely.
"Mysore Coffee" was a very interesting story that could have easily taken place on Wall Street. The story described how a professional businesswoman working in investment banking in Bangalore interacted with her Indian and American co-workers, handled office politics, her own emotional baggage, and career. A well written story of a woman juggling serious issues in her life.
"Apple Pie, One by Two," was a very unique story about American educated, Indian born, high-tech start-up founders. Many will relate to the ups and down, the choices, and dilemmas that many successful workers faced when India's Silicon Valley and outsourcing boom occurred. A very interesting story that also could easily be made into a full length novel.
I think it's clear that I enjoyed Sankaran's short stories. She has a very keen perspective and accurate insight into contemporary Indian Americans, in the U. S. and those in India. I look forward to a full length novel from her in the near future.

To purchase this book from Barnes and Noble click
here.
Have you read this book? What was your opinion? Click on comment and tell me!