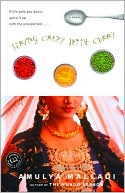 "Serving Crazy with Curry,"
by Amulya Malladi was one of the most absorbing yet easy to read stories I have picked up lately. The main character, Devi, attempted suicide at the start of the novel, and the rest of the story explored her relationships with her family, the choices she made in her life, and the outcomes. The rather dark subject of suicide was very thoughtfully handled in the story, with very believable feelings and outcomes. It was obvious that Malladi did her research into this topic because of the care with which she described the thought process before the attempt and the aftermath. The characters' thoughts and actions were very touching, yet not melodramatic.
The story took place in the Bay Area, so places around Palo Alto, Redwood City, and the rest of Silicon Valley were mentioned throughout the book. Devi's father, a successful, semi-retired affluent founder of a technology company has two daughters who were very different from one another, yet shared many common family values. His eldest daughter Shobha was the perfect, well educated, successful executive of a technology company, and was married to a Stanford professor through a marriage arranged by her family. The contrast of following traditional ways, doing what was expected of her in terms of education and success, and yet living a very modern life, is something that many immigrants from all cultures can identify with. I found Shobha's
outspoken and rather gutsy attitude mixed with self-doubt, insecurities, and need for acceptance to be very universal traits.
Devi, in contrast, seemed to be about total freedom, living life the way she wanted, and yet suffering because she could not handle the outcome of her choices. Devi's character's inner turmoil after being involved in another failed start-up company, poor choices in her personal life, feelings of inadequacy, and wanting to accomplish something in life amid the family's affluence will speak to many trying to find their way in life.
Their mother, Saroj, was a traditional immigrant stay-at-home mother who came to the Bay Area before the tech boom, raised two daughters among the newly-affluent Silicon Valley immigrants. Malladi used Saroj's character to describe the deep traditional Indian values, how parents deal with grown children raised in America, and to show that ultimately it is love and family that matters above all else. I liked that many of Saroj's lines were hilarious. Many will recognize the views expressed by Saroj's character!
Throughout the book, Devi's character experiments with cooking fusion food during her recovery. It was interesting to see how therapeutic cooking can be for many. The relationship between food and family is universal. The family's healing process was beautifully described around the gatherings for Devi's cooking.
Malladi is a great storyteller. The haunting scene when Devi is discovered was very touching and capable of moving you to tears. The book was full of priceless one-liners that had me laughing out loud, and a couple of unexpected turns to keep it interesting. There was the right amount of humor, the keen insight into the serious topic of suicide, and the very believable cast of characters. I really enjoyed this book, it was a pleasant surprise, and a very good read.
To purchase this book from Barnes and Noble click
here.