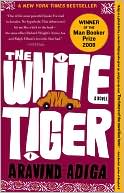 "The White Tiger,"

by Aravind Adiga was a provocative novel about a downtrodden servant-class entrepreneur who comments about his own personal story within the current conditions in India.The story took place in Gaya District of Bihar, New Delhi, and Bangalore and was laced with plenty of 'black humor' for comic effect. This theme of disparity between the classes in this the story was very much in line with Umrigar's The Space Between Us and Swarup's Q & A among others. Frankly, I wasn't looking to read yet another story about the conditions of the slums in India and the painful struggles of the poor, but reading only the first few pages of the story caught my attention.

This book was written as a series of letters from Balram, our protagonist, to the Premier of China who is expected in town on a state visit. Adiga tries to capture the tone and language of someone of Balram's socioeconomic class and disposition. The humor, wit, and racist remarks are sharp and sure to spark heated conversations, and controversy. What kept me reading the story was Adiga's storytelling. There was just enough suspense that it made me want to keep reading, even though the subject was not pleasant. I was curious and was drawn into Balram's story. There were questions of morality, judgement, and humanity faced by our protagonist and I wanted to see where his choices would take him.

Adiga brought to the table many topics that are difficult to face regarding the downtrodden, corruption, and abuse of power in India. Some have even called the book unpatriotic, and have argued that Adiga has no authority to write about such a subject as he is from a wealthy, educated background. I think that regardless of his background, he has brought to the forefront a modern take on a very old topic of class disparity and corruption. He has thrown in the high-tech outsourcing boom in Bangalore, commercial development in Gurgaon, and Indians returning back from the U.S. as a backdrop to highlight the controversies that India deals with everyday. After all, this is a work of fiction, a story to entertain and perhaps to get people to think about these issues from a different viewpoint, and maybe lead to progress.

If you get past the fact that extreme poverty and social disparity exist in India (as in many countries in varying degrees) then you find Adiga's characters with their survival instincts and complex 'entrepreneurial' spirit rather intriguing. I thought this was quite an interesting novel, and would recommend it for sparking interesting debates.

To purchase this book from Barnes and Noble click here.