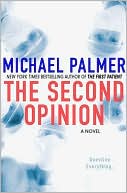 "The Second Opinion,"

by Michael Palmer is a thrilling, medical mystery-drama, written by a doctor who is obviously a gifted writer. I had not read any of Palmer's other novels and was not expecting the story to be as satisfying as it was. The story is about a famous internal medicine specialist, Petros Sperelakis, and his four highly intelligent children. Dimitri, the eldest, has an IQ of 180, yet is lost in his own world of computer games, and software hacking. The twins, Niko and Selene, are both Harvard educated doctors. Thea, the youngest, also an internal medicine specialist, works with "Doctors Without Borders" in underprivileged countries.





The story describes the events after an accident leaves Petros in a comatose condition in the Boston hospital that he founded. Thea returns from an assignment in Africa and finds the situation surrounding her father's condition a bit suspicious, and is determined to find out why. Events start to happen and the action filled story takes the reader on a ride filled with unexpected twists, suspense, medical explanations, neurological abnormalities, and family relationships.





Palmer describes Asperger's syndrome, a type of autism, and how Thea is able to live and function despite being diagnosed with it. The insight into the thoughts of a person who has Asperger's is expertly written and explored. The story contains a great deal of medical details and activities in and around a hospital. Every expert description was entirely believable and yet not tedious. I was reminded of a non-fiction book called "Complications" by Atul Gawande. Gawande's account of being a doctor and his very real human feelings among all the technicalities of hospital life was similarly engrossing without the thriller aspect. Palmer's fictional story progresses at action-film speed where you never know what to expect next. I enjoyed the switching back and forth between the different story lines and the way Palmer brings them neatly together.





The story pulls the reader in with issues of having a parent on life-support and each child's differing opinions on how to handle it, plus the suspense involved in solving the mystery. Issues of sibling rivalry, parent-child relationships, and unspoken feelings are common among all families, regardless of age or education level. Palmer intertwines these emotions in an engrossing thriller that is difficult to put down. Another thriller by Palmer, "The First Patient," received a great recommendation from President Bill Clinton himself! I can't wait to read it, and future novels by this very talented doctor.



To purchase this book from Barnes and Noble click here.

Have you read Palmer's work? Click on comments below and tell me!